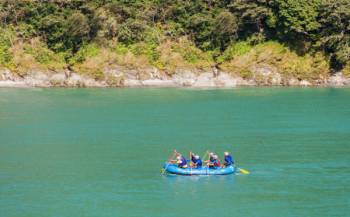 When you arrive at Rishikesh, you will be met by our representatives who will conduct you to the campsite where you will have a chance to refresh yourselves.
After you have refreshed yourself, you will have the chance to indulge in some of the games and activities around the campsite. These include volleyball, softball, and badminton among others.
Post lunch, you will head out towards the river rafting site where you will enjoy a two-hour rafting session. You will also have the chance to enjoy Body Surfing and Cliff Jumping in this session.
After the expedition, you will return to the camp and enjoy a nice camping experience by the fireside.
Overnight stay in Camp.