* Mentioned prices may vary depending upon date of travel, hotel availability, surge pricing and seasonal rush.
Rishikesh Tour Overview
If you are planning to delight in a vacation that is soaked in the best hues of adventure, this Rishikesh package for 2 days is the best choice. Offering you opportunities to enjoy some of the much loved thrilling activities, this trip to Rishikesh is nothing less than a superb pack of pleasurable holiday experience. This Rishikesh itinerary hails the squad of adventure-seekers looking forward to a short getaway.

Opting for a trip to Rishikesh, you are in for an adventure retreat. Also known as the Gateway to the Garhawl Himalayas, Rishikesh is a famous tourist spot and also a major pilgrimage spot for the Hindus. River Ganges flows through the town of Rishikesh and it is famous for its various shrines and yoga ashrams. Try your hands on some adrenaline-pumping activities river rafting on Shivpuri River (One of the top attractions of Rishikesh) being the highlight of all during this Rishikesh trip for 2 days. Once you have enjoyed drifting through the river current, other activities such as beach volleyball and body surfing await you. Next you can take up cliff jumping and feel the thrill gushing through your veins as you kick a cliff and fly in air, several feet above the land!

Trekking -
Owing to its geography, Rishikesh is home to many beautiful hiking trails. Into the wild, there are plenty of trails that lead to short treks. The scenic river bank, pleasant temperature, and clear night sky further makes Rishikesh an ideal place for trekking. Best of all, as a part of this tour package, you will get to go on a short trek.

River Rafting -
River rafting is an absolute must for everyone who is planning a trip to Rishikesh. White water rafting in rishikesh draws a major crowd. One can take part in it choosing from four different variants, i.e., from grade I to Grade IV. Some of the famous rapids are Sweet Sixteen (Grade I), Hilton (Grade II), Black Money Grade I), Return to Sender (Grade III), The Great Wall (Grade IV), Terminator (Grade II), Cross Fire (Grade III), Roller Coaster (Grade III), Three Blind Mice (Grade III), etc.

A short trek is also on the list that will introduce you to the luxuriant stretches of this quaint hill town. Rishikesh also is among the few places in India that offers a multitude of adventure sports to its visitors. With the city of Haridwar only a few miles south from Rishikesh, the place is also considered as a 'holy city'. And post all the thrill you would be treated with a fun campfire session and mouth-watering dinner.Your 2 days Rishikesh trip offers you a myriad of activities, along with allowing you to ease in the serene locale. So, get ready for the best Uttarakhand tour package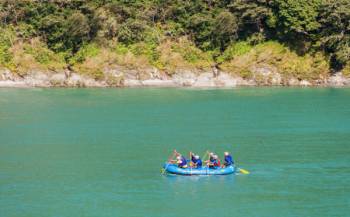 Other Benefits (On Arrival)
Watersports
Stay Included
On the first day of your 2 day Rishikesh tour check into one of the camps, and freshen up. Gear up for enthralling Shivpuri river rafting.
Post this adventurous experience of drifting through the river current, be prepared for more exciting activities and games like- Beach volleyball, body surfing, cliff jumping, campfire, and light trekking.
As the day comes to an end, return to your camp and feast on a sumptuous dinner before you retire for the day.
Tip: Wear comfortable clothing and footwear as you will be engaging in sports activities